Looking to buy raw honey online? Or maybe buy honeycomb?
Then you're probably a connoisseur of gourmet honey!   So are we!
At B-Honey we're gradually building a reputation as one of the best raw honey suppliers in Australia.
We wish this website could give you a taste of our quality honey products but unfortunately technology hasn't advanced that far yet! Not that we're so keen on technology – we like to do things as simply and naturally as possible.
That's why all of our honey is gourmet raw honey. The following four qualities are essential to qualify as a gourmet raw honey: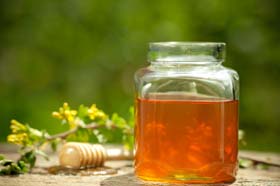 Raw Unheated Honey
We don't use any heating during our processing. That's because heating honey beyond 37°C (98°F) has detrimental effects on it's nutritional value  – it starts to lose antibacterial effects and important enzymes. We don't heat it at all – unlike some raw honey suppliers, who still call their product "raw" even though they heat it to up to 49°C (120°F).
Unfiltered Honey
We keep important natural goodies in our honey by straining it instead of filtering it. Straining it removes larger particles such as pieces of wax by passing the honey through a mesh. Filtered honey, on the other hand, is usually heated in order to force it through a very fine filter at high pressure. This filtering process removes all the smaller particles, including pollen. It is thought that the pollen lessens sensitivity to hay fever and that's one reason that allergy suffers prefer to buy our raw unfiltered honey.
Pure Honey
We sell only pure honey, which means that nothing has been added to it. It's extremely unlikely that any Australian honey producers would add non-honey sweeteners to their products, but there has been concern in the USA that some of their imported honeys, from countries such as China, may have cheaper ingredients added to it.
Gourmet Honey
We only sell gourmet honey. All of the honey you buy at the supermarket as well as most other commercially available honey is blended. Blended honey has been made by bees who collected pollen from many different species of flower, whereas gourmet honey is made from pollen collected from only one species of flower. Each species of flower produces its own, uniquely flavoured gourmet honey. Our bees have 6 species of flowers and thus produce 6 varieties of gourmet honey – each type is only available for sale for a couple of months each year.
We have raw honey for sale which will satisfy the most discerning connoisseur of gourmet honeys. Our raw honey has not been heat-treated at all. It's been strained to remove some of the large particles but it hasn't been filtered, which means that you get the full health benefits of honey because all the natural goodness is still in there.
More...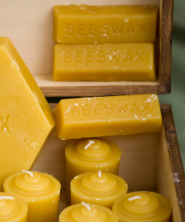 Most people who buy beeswax will use it for candle making, but there are dozens of other uses for beeswax such as for ear plugs, jewellery, whip making, as a non-toxic wood finish and even for moustache wax. Find out more about beeswax and buy beeswax blocks today!
More...
B-Honey is a family run boutique honey supplier located in Kunghur (between Murwillumbah and Lismore) in Northern New South Wales in Australia.