About Us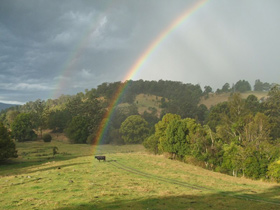 At "B" Honey we work with the environment to provide you with a high quality natural 100% pure honey.
"B" Honey is located on the far north coast of NSW in the foothills of the Mount Warning remnant volcanic caldera. Situated an hour inland from Byron Bay our bees thrive in the natural hinterland environment. We have another apiary site in the Lower Blue Mountains Cumberland Plains region where the bees thrive producing the light to medium, sweet smooth flavour of the forest red gum variety that we are renowned for.
"B" Honey is owned and operated by John Donvito. John has had an enduring interest in bees since the early 1970s. As a teenager, he worked with his brother for many years to keep beehives, and then sourced his own beehives in 2000. John's knowledge gained from his horticultural studies and conservation work has greatly assisted him in bee-keeping and he consistently works with the bees to produce high quality honey and beeswax product.
Our honey varieties will vary according to what is in season including greybox, ironbark, forest red gum, brushbox, bloodwood, stringybark and messmate honey varieties. Because we work with nature, our bees produce honey from what is currently in flower and our honey supplies are totally dependent on what is in season.
At "B" Honey we believe that this is the most natural state for bees to produce honey – allowing them to forage on what is naturally available.
We extract, filter and decant our honey directly from the hive. Our honey is not blended or heat treated ensuring its naturally 100% pure quality.
To further ensure the natural high quality of our honey, antibiotics and sugar are never given to our bees. We believe that honey bees will provide us with the highest quality natural honey with minimal intervention, but with careful monitoring.
John's knowledge and enthusiasm enables him to provide additional services to our customers including information about bees and beekeeping to assist people with all kinds of bee issues from setting up a beehive to swarm and hive removal. John operates a swarm removal service for a fee to ensure that our bee population is maintained naturally.