Buy Beeswax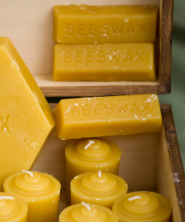 How do bees make beeswax?
The wax is made by worker bees (who are all female). They secrete it from glands on abdominal segments 4 to 7. They need to consume 8 litres of honey in order to produce one litre of beeswax.
Why do people buy beeswax?
There are many reasons why people buy beeswax.
The most common is for making beeswax candles. Beeswax has a higher melting point than paraffin and therefore beeswax candles burn slower and last longer and have a pleasant natural smell.
Some of the many other uses for beeswax include:
Waxing archery bow string
Turning herbal oils in to ointments or balms,
Mix honey and beeswax and apply to cracked hooves,
didgeridoo mouthpieces,
ear plugs, mould the beeswax to fit your ear perfectly,
non-toxic wood finish:  mix equal part mineral oil and beeswax. Heat in a double boiler and rub on furniture or toys, then buff off excess.
When you buy beeswax from us you can be certain that we didn't use any chemicals to clean or prepare it for sale. 
As our beeswax is not bleached, each time you buy beeswax its colour may differ from the previous time.
All the beeswax is produced by our own bees.
About buying bees wax online:
You can buy bees wax online from us with confidence using payapal, visa or mastercard.